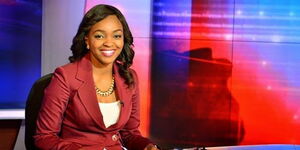 Peninah Karibe has been in the media industry since 2000.
She worked in KBC Radio for five years as a programme presenter and later moved on to NTV, as a weather presenter and grew to News Anchor/Reporter.
She has covered various significant events such as Kenya's 2007 General Election, 2010 Constitution Referendum and eventual promulgation, South Sudan's Independence Referendum and Independence in 2011, Uganda Elections in 2011.
Other than current affairs she did special reports on Environment and Wildlife conservation including lion collaring exercises, buffalo translocation, and how human activities may have contributed to the drought that hit Kenya in 2009 and the impact on the country's tourism industry.
She joined CCTV in October 2011 as a news anchor for Africa Live.
Ms Karibe has also done international assignments such as reporting on regional stability like the Kenya war on Al Shabaab in Somalia and effects of the 1998-2003 D.R.Congo conflict.
Her Personal Interests include Outdoor activities such as hiking, camping, travelling and she's a champion sprinter!