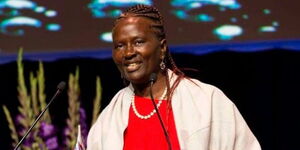 Annabell Waititu is an executive director at the Institute of Environment and Water Management (IEWM).
She is a natural resource management expert and has worked in environmental advocacy for over 5 years. 
Some of the programmes she has undertaken include the Lake Victoria Water and Sanitation Program, the Nile Basin Initiative, Water for African Cities, the Kenyan 2002 water sector reforms, Water and Sanitation Improvement Program among others.
On September 11, she was recognised in Denmark as she became the first recipient of the Gender Diversity and Water Award 2022 which is organised by the International Water Association (IWA). 
In addition, Waititu is not only one of the founders of Bigfive Africa (BFA) but also the vice president of the organisation. The organisation works with development partners in seeking infrastructural developments to change the lives of Kenyans. 
She is also a fellow at the Centre for Governance and Sustainability at the University of Massachusetts.