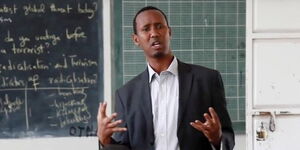 Ayub Mohammed is an Islamic teacher at Eastleigh High School in Nairobi.
In 2016, he was named among 10 finalists who were nominated for the prestigious United States Global Teacher award.
 This was in recognition of his efforts in the fight against violent extremists and the radicalization of students after establishing Teachers Against Violent Extremism, an anti-terror network, and is the patron of a grassroots youth empowerment initiative.
Upon the establishment of the network, Mohammed has recruited teachers to join the group in educating students on violent extremism.
Since he started classes to enlighten students on the same, many students graduated from his school with a clear understanding of violent extremism. 
The teacher who hails from Wajir revealed that he was motivated to start the foundation after he witnessed Al Shabaab recruiting learned students to the terror group.