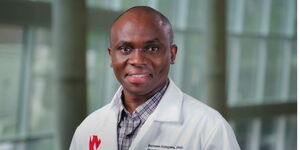 Benson Edagwa, Ph.D. is an Associate Professor, Department of Pharmacology and Experimental Neuroscience, University of Nebraska Medical Center (UNMC), Omaha.
His long list of honors reads like a Christmas shopping list: 
2020 New Investigator Award, University of Nebraska Medical Center
2020 Nickolus Badami Fellowship in HIV/AIDS Research
2019 Emerging Innovator of the Year, UNeMed Corporation
2016 ViiV Healthcare Distinguished Scientist, ViiV Healthcare
2015 UNeMed Research Innovation: New Invention Notifications, Patent Applications, UNeMed Corporation
2015 ViiV Healthcare Fellowship, ViiV Healthcare
2014 Young Investigator Fellowship, CROI Foundation
2014 GSK Fellowship, GlaxoSmithKline
2013 Silver U Award, University of Nebraska Medical Center
2012 Teaching Assistant Scholar Award, Louisiana State University
2011 Kiran Allam International Award, Louisiana State University
2010 Dr. Charles Coates Travel Award, Louisiana State University
Prof Edagwa recently invented a game-changing technique that would allow people living with HIV to take ARVs after every six months or once a year.
The revolutionary process will eventually replace the gruelling daily drug taking routine, and lead to better adherence.
He holds 13 patented inventions and is also a listed inventor on 13 pending patent applications.
With HIV and tuberculosis especially prominent in Kenya, Dr. Edagwa wanted to pursue his post-doctoral training in infectious diseases.
Dr. Edagwa now has seven graduate and two post-graduate students in his laboratory. In addition to his HIV research, the team has been working on modifying molecules to develop new medicines for hepatitis B and Covid-19.