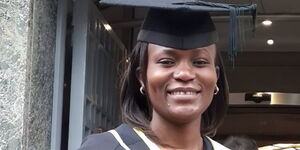 She is also one of those doctors who were cast into the limelight following the global pandemic. Gracing multiple TV stations to share her expert insights.
Dr. Loice Achieng Ombajo is a physician and an infectious disease doctor.  She is a lecturer of internal medicine at the University of Nairobi (UoN) and an Adjunct Assistant Professor of Medicine at the University of Texas Medical Branch.
She holds an MBChB and MMED in Internal Medicine from the University of Nairobi, holds a Diploma in Tropical Infectious Diseases from The London School of Hygiene & Tropical Medicine(LSHTM) and an MSC in Infectious Diseases from the University of London.  
She has done clinical rotations in infectious diseases at the University of Maryland in Baltimore and the University of Texas.
She heads the Infectious disease unit at the Kenyatta National Hospital (KNH) and is program director for the Infectious Disease Fellowship program at UoN.  She is the Secretary of the HIV Clinicians Society of Kenya.  
Her research interests include improving outcomes in sepsis, antimicrobial stewardship and cardiometabolic disease in HIV.