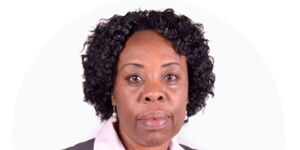 Esther Kimani is the founder of Farmer-Life-Line Technology company.
She is skilled in seed certification, plant health, food safety, operations management, strategic planning and leadership.
Her firm invented a device that detects crop pests and diseases at an early stage. 
The unique device leverages on data analytics, machine learning and artificial intelligence. It has small camera modules connected to a computer system.
Moreover, the device is powered by solar, and thus it can be able to operate even during rainy seasons. 
With a power retention capacity of two days, the device effectively detects pests and crop diseases over a radius of 730 meters.
The device continues to save Kenyan farmers millions of shillings which were previously used in crop diagnosis and late treatment.
Her firm has won several international awards this year including the Pitch AgriHack Award and Africa Food Prize award. 
Farmer-Life-Line Technologies limited was also awarded $100,000 at the COP27 conference that was held in Egypt. 
She holds a Doctor of Philosophy (PhD) centered in Crop Protections from the University of Nairobi (UON).