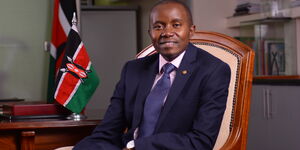 Joe Mucheru is the Cabinet Secretary in the Ministry of Information and Communication having been appointed by President Uhuru Kenyatta in 2015.
The soft-spoken CS studied at London's City University after attending high school in Kenya. He also attended The Stanford Executive Program at Stanford University in 2008.
He is a former Google Sub-Saharan Africa Lead based in the Google Nairobi office. He was Google's first Sub-Saharan employee and played a critical role in setting up Google's presence in Africa from 2007.
Prior to his post at Google, Mucheru worked at Wananchi Online, a company he co-founded in 1999. He held various roles at the company including Chief Technology Officer, Strategy & Business Director and Chief Executive Officer.
He was a board member of UAP Investments Limited, BitPesa Limited, Give Directly and African Development Bank - all in the financial technology space ranging from insurance, cryptocurrency, and innovative charity aimed at giving unsecured lending using data and mobile technologies.
Mucheru was part of the team that launched the Loon internet balloons that will see mobile phone users in 14 counties access 4G networks. The CS has also played a vital role in leading the government's efforts to roll out the Huduma Namba that will consolidate citizen's data into one document for easier access to government services.