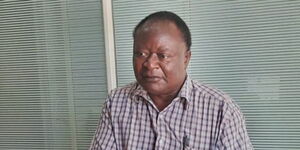 Joel Shunza Gitali is a Kiswahili teacher at Busia's St. Stephen Bujwang'a Secondary School in Busia County.
He also doubles as the chairperson of the Kenya Tobacco Control Alliance.
On May 28, he was awarded the World Health Organization's (WHO) global prize. He was feted with World No Tobacco Day Award for his work in championing the control of tobacco.
The teacher's advocacy in anti-tobacco campaigns is credited to his experience with students working as a guidance counsellor.
He explained that he saw many students struggling with drug addiction in environments where they could not access the substances. He has also used his anti-tobacco campaigns to help addicted student reform and focus on their studies.
Aside from the classroom, Gitali is a counsellor with the Kenya Association of Professional Counselling.
He is also a community health educator at Social Liberation and Health Promotion Club, a cultural organisation that he began in 1995 that advocates for good health through social change and cultural transformation.