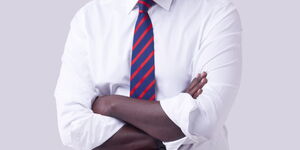 Johnson Sakaja is the current Senator of Nairobi County, following his election to the position on August 8, 2017, General Election. His political journey started in his days as a student at the University of Nairobi as vice-chair of the Actuarial Students Association. He was later elected as the Chairman of the Student Organisation of Nairobi University (Sonu).
He helped with the formulation of the 2010 constitution where he took a lead role in definition of constituency boundaries. Sakaja also worked with President Uhuru Kenyatta at the Ministry of Finance where the latter was the Minister and also the Deputy Prime Minister in the then Grand Coalition Government.
Sakaja was the founding chairman of the National Alliance party with President Uhuru Kenyatta as the party leader. Other than winning the Presidency, TNA won 72 of the 290 seats during the 2013 election and also took 17 of the 47 Senate seats and 14 of the 47 Woman Representative seats. 
The fearless legislator openly went against President Uhuru Kenyatta in September 2019 when he initiated a court process seeking to nullify the appointment of former Othaya MP Mary Wambui, as the board chairperson of the National Employment Authority, an authority he had helped form.