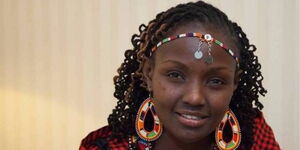 Josephine Kulea formed the Samburu Girls Foundation in 2012 with the aim of helping girls from her community against undergoing Female Genital Mutilation. 
Her efforts in protecting the girls saw her receive recognition from the then Us ambassador to Kenya, Micheal Rannerberger. 
Since starting the foundation, many girls in the community have been saved from the practice and have had an opportunity to go to school. 
In 2015, as the 44th President of the United States, Barack Obama while giving a speech at the Kasarani Stadium, recognised the efforts of the activists and lauded her for providing education to girls in her community.
Among other prestigious awards Kulea has received include; Unsung Hero 2011, Head of State Commendation in 2012, UN Person of the Year 2013, I YALI Washington Fellow 2014, African Union Youth Hero 2015, University of New York award 2016 and Top 40 under 40 women award in 2016.