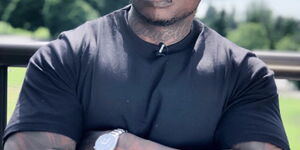 Khaligraph Jones who is also known as Papa Jones is an influential Kenyan rapper with a unique style and a flow which cuts across the complexity of genres and eras with his music.
He was instrumental in advocating for the rights of musicians who protested the mismanagement of collective management organisations, in particular, the Music Copyright Society of Kenya which came under fire for low remittances to artists.
"I have given authorization for my music to be pirated. Don't collect money on my behalf anymore. Nisiskie mmeshika mtu akicheza wimbo zangu kwa street, msinitumie izo peanuts zenu tena, The OG shall be respected," he protested at the time.
The uproar caught the attention of President Uhuru Kenyatta who, during the burial of Kikuyu musician John DeMathew in August 2019, ordered an investigation into the organisation.
In November 2019, he won the Best Male Artist in East Africa at the sixth annual All Africa Music Awards (AFRIMA) at the Eko Convention Centre in Lagos, Nigeria.