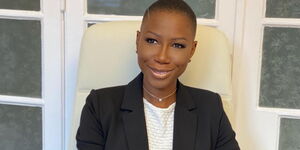 Dr Maria Othieno Bayerl is a Kenyan facial aesthetic surgeon based in Bucharest, Romania.
She holds a Bachelor's degree in Medicine from the Carol Davilla School of Medicine in Bucharest where she studied from 2008 to 2014.
Dr Maria is the founder and the Chief Executive Officer of the Dr Bayerl Beauty Clinic which provides solutions to aesthetic problems. The organization has been praised for its time-saving procedures which have consequently helped reduce the time spent applying makeup. 
Her aspiration is to help people feel comfortable in their skin through surgical procedures. 
In addition, her organisation provides organisational thought leadership and technical support to contribute to high-performing, adaptable and resilient health systems.
After her success in Bucharest, Dr Bayerl stated her intention to establish a facility in Nairobi to solve aesthetic problems in Kenya. 
Dr Bayerl was also instrumental in the fight against the Covid-19 pandemic through her organization created a platform for people to share their travel experiences in areas stricken by the pandemic.