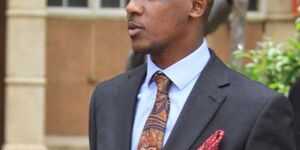 Born in 1975. He is a member and vice-chair of the Wiper Democratic Movement, Kenya and was elected as the second Senator of Makueni County on the WDM-K ticket in a by-election in July 2013, after the demise of his father Mutula Kilonzo and is currently serving his second term since his election in August 2017.
Following in the footsteps of his late father, the young senator grabbed the headlines for his no-nonsense approach when it comes to interrogating top government officials linked to corrupt dealings.
He made the list simply for his tenacity when it comes to championing for the rights of the everyday citizen during senate hearings. 
"What your parents have can never define you...Keep a straight focus, work extra hard, and have a positive attitude in whatever you do," he once stated while speaking at the Starehe Boys Centre.
Throughout his term, the Senator has emerged as a fierce critic of corruption in various arms of the Kenya Government, leading to his recognition as a vocal member of the Committee on Justice, Legal Affairs and Human Rights.