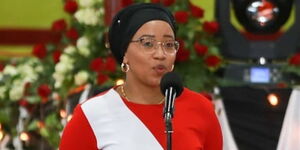 Nadia Ahmed Abdalla is the Chief Administrative Secretary, Ministry of ICT, Innovation and Youth Affairs. 
In addition to that, Nadia is a businesswoman, a fashion guru, mental health advocate and published author.
She is referred to as the young, fierce and creative woman in President Uhuru's cabinet. 
She runs a campaign called Kenya ni mimi, which promotes the One Kenya Agenda and empowers the youth to occupy leadership roles, be part of the economic development of the nation and be weary and active when it comes to climate change & environmental conservation.
Nadia states that she believes 'A Fierce Attitude' is all that a woman needs to tackle anything.
Appointed at the age of 29, she is evidence that in a field assumed to be dominated by the experienced, you are never too young to teach, and never too old to learn.
She is a Public Relations and Communications graduate.