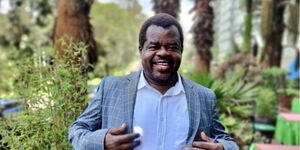 Okiya Omtatah is not a lawyer by profession as many people presume him to be, but is a Human Rights Activist. 
To many, he is the number one country's public defender because he has filed some of the biggest public interest cases that have shaped the economy and political landscape.
His quest for a just society has seen him get into trouble with law enforcement, persevering beatings and arrests, but he never bows to the pressure.
Notably, Omtatah hardly loses his appeals. 
His latest achievement is saving the Busia airstrip, where Omtatah filed a case against unknown businessmen who were attempting to sell the land claiming it was private. 
He is well known for battling a 800 acre land case for 8 years. 
He has been recognized for his efforts as he was awarded the 2020 Heroes Award at a private ceremony, from the Obonyo foundation that awards selfless individuals annually. 
"My activism is anchored on the Constitution of Kenya, 2010. My overriding objective is to the immense power of the Constitution to have the Judiciary entrench constitutionalism and the rule of law in the conduct of public affairs," Omtatah stated in an interview in 2019.