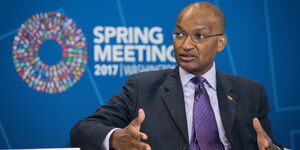 Born in 1961, Patrick Ngugi Njoroge is an economist, banker and the governor of the Central Bank of Kenya.
He attended Mangu High School from 1973 until 1976, for his O-Level education.
From 1977 until 1978, he attended Strathmore College for his A-Level studies.
He entered the University of Nairobi in 1979, graduating with a Bachelor of Arts in Economics in 1983 and a Masters of Arts in Economics in 1985. From 1987 until 1993, he studied at Yale University, graduating with a Doctor of Philosophy in Economics.
In 2019 Njoroge oversaw the demonetisation of the Ksh1000 currency note and the introduction of the new currencies for other denominations as per the 2010 Constitution.
"In deciding to withdraw the older series notes, the Central Bank of Kenya (CBK) assessed the grave concern that these notes were being used for illicit transactions and financial flows, into Kenya and in the region.
"More recently, there has also been the emergence of counterfeits. Both these concerns posed a threat to the credibility of the Kenyan currency, and required swift action," Njoroge argued in an op-ed published by The East African.