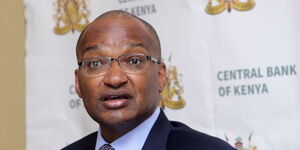 Patrick Njoroge is the governor of the Central Bank of Kenya - a position he has served since June 18, 2015. 
A jack of all trades, Njoroge is an economist and a banker by profession. He graduated with a Bachelor of Arts at the University of Nairobi in 1983 before obtaining a Master of Arts in Economics two years later. He furthered his studies at Yale University and graduated with a Doctor of Philosophy in Economics. 
In June 2015, he was nominated by former president Uhuru Kenyatta and subsequently approved by Parliament to become the governor of the Central Bank of Kenya. 
In 2019 Njoroge oversaw the demonetisation of the Ksh1000 currency note and the introduction of the new currencies for other denominations as per the 2010 Constitution.
Over the past year, Njoroge has made significant contributions to the Credit Information Sharing (CIS) framework. The CBK governor recently changed the credit reference bureau laws barring Kenyans from taking loans. 
He also announced a Credit Repair Framework aimed at improving the credit standing of mobile phone digital borrowers.