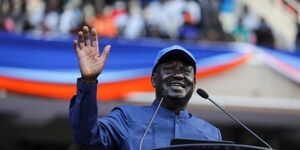 Raila is the Orange Democratic Movement (ODM) party leader who served as the Prime Minister of Kenya from 2008 to 2013.
An alumni of Kisumu Union Primary School and Maranda High School, Raila spent two years at the Herder Institute, part of the philological faculty at the University of Leipzig in East Germany. In 1970, he graduated with a Masters of Science in Mechanical Engineering.
His political career has been hailed as a key instrument in the fight for the country's independence. 
From facing detention, arrests, Raila has been the face of the country's struggle and fight for liberation. Raila served as the Langata Member of Parliament from 1992 to 2013. Further, he served as the Minister for Energy ( 2001 to 2002). Minister of Roads (2003 to 2005), Prime Minister of Kenya (2008 to 2013). He also serves a diplomatic role as the African Union High Representative for Infrastructure Development- a position he served from 2018 to date. 
Hailed as one of the fierce presidential candidates in the August 9 elections, Raila lost to incumbent President William Ruto by a narrow margin. 
In his role as opposition leader, Raila has held Ruto led administration into account- calling for the president to fulfill his promises made during the campaigns. 
During the COP 27 event held in Egypt, he also advocated for measures aimed at mitigating emissions, facilitating a just transition, and increasing funding and collaboration for essential climate solutions