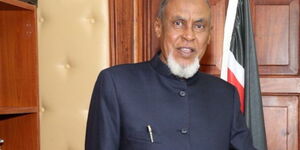 Born on December 23, 1940, in Garissa District in the North Eastern Province (Northern Frontier District).
For his post-secondary education, Haji earned a diploma from the University of Birmingham, where he majored in Management and Finance Control.
Haji began his professional career in administration and management. He joined the Provincial Administration of Kenya as a District Officer and went on to serve as Provincial Commissioner between 1970 and 1997.
For 2019, Haji served as the Chairperson of the Building Bridges Initiative taskforce that was formed by President Uhuru Kenyatta and ODM leader Raila Odinga.