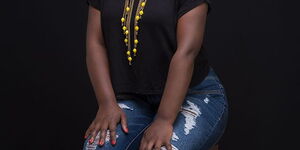 Queen Elizabeth II on Thursday, November 21, recognised a Kenyan doctor by awarding her for exemplary work.
Dr Stella Wairimu Bosire-Otieno was handed the Commonwealth Points of Light Award, which recognises outstanding volunteers and people who are making a change in their community.
Wairimu was recognised for her work through the Dr Stellah Bosire Foundation, which has supported over 20,000 women and girls living in poverty to access education programmes, mentoring, work experience and reproductive and sexual health advice.
She was born and brought up in Kibera, the largest slum in Nairobi and had a tough childhood, with her mother suffering from schizophrenia and a distant father. 
Stella is also the co-executive director of UHAI-EASHRI, Africa's first indigenous fund supporting nearly 200 civil society activist organisations which address issues of sexuality, health and human rights in East Africa.