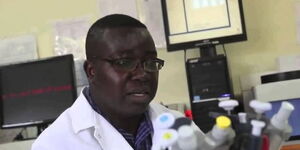 Dr. Walter Otieno works at the US Army Medical Research Unit in Kenya based at the Kenya Medical Research Institute (KEMRI) and Head of Pediatrics and Child Health at Maseno University School of Medicine.
He was a principal researcher in the study for the development of the Malaria vaccine that took place at the Recruit Training College in Eldoret.
He joined KEMRI in 2001 after earning his masters in Medicine (Pediatrics) from the University of Nairobi.
Otieno started his medical career at the University of Nairobi, where he graduated with a Bachelor of Medicine and Bachelor of Surgery. He also earned a PhD in Molecular Medicine from the same institution.
In addition, Otieno has established himself as a medical expert in the management of Malaria, having been involved in malarial anemia pathogenesis and mechanism of protection against severe manifestations of malaria studies among others.
He is currently a board member of several hospitals in the Nyanza region and various professional bodies.
Further, he is also recognized for mentoring many young doctor-graduates and other practicing health professionals.