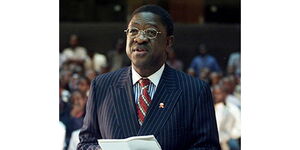 Amos Wako is a Kenyan politician and Senior Counsel who was born in 1946 in Bukhayo, Busia District.
He is a former Attorney General and the current Senator for Busia county. 
Wako was educated at Kakamega School and the Alliance High School and earned a Bachelor of Science in Economics at the University of London, a Bachelor of Laws at the University College of Dar es Salaam, and a Master of Laws at the University of London. 
He is credited with overseeing the drafting of the proposed new Constitution of Kenya based on the Constitution of Kenya Bill as drafted by the National Constitutional Conference and as amended by Parliament. 
This Draft Constitution was nicknamed "the Wako Draft", but failed miserably at the 2005 Kenyan constitutional referendum. Its components were, however, an important reference point that ushered in the current constitution which was promulgated in 2010. 
He left the State Law Office on 26 August 2011 as per the new constitution which demanded him to leave office one year after its promulgation.
He was succeeded by Prof Githu Muigai. He joined the Orange Democratic Movement, on whose ticket he successfully contested the Busia Senate seat on March 4, 2013. He retained the seat in 2017.
Amos Wako's 20-year tenure is the longest of any Attorney-General in Kenya.
He is a life member of the Wiltshire Bar Association, has been awarded the Elder of the Burning Spear (EBS) and Elder of the Golden Heart (EGH).
The senator is also one of the few Kenyan lawyers who have been conferred the title of Senior Counsel.
He also served as Co-Chair of the Building Bridges Initiative (BBI) task force which collected public views resulting in the proposed constitutional amendment bill that is currently in Parliament.