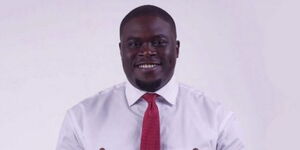 Johnson Sakaja is the current Senator of Nairobi County, following his election to the position on August 8, 2017, General Election.
His political journey started in his days as a student at the University of Nairobi where he served as the Vice-Chair of the Actuarial Students Association. 
He was later elected as the Chairman of the Student Organisation of Nairobi University (Sonu).
In 2020, Senator Sakaja was instrumental in unlocking a standoff between senators regarding the formula that would be used to share revenue between the counties. 
Ultimately President Uhuru Kenyatta promised to add Ksh 50 billion to the kitty which counties' were supposed to receive and Senator Sakaja's formula was adopted. 
The formula, which has been described as a win-win, was spearheaded by Senator Johnson Sakaja will guide how much money counties will get from the National Government in the financial year 2020/21 and 2021/22.