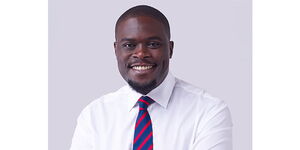 Johnson Sakaja is the current Senator of Nairobi County, following his election to the position on 8 August 2017 General Election in Kenya.
He served as a nominated Member of Parliament for the National Assembly since 2017 under the National Alliance party (part of the Jubilee party).
Sakaja graduated with a degree in Actuarial Science at the University of Nairobi. The politician has worked at Pricewatercoopers (PwC), and a cyber cafe before setting up a financial consultancy firm, Arthur Johnson Consultants. 
The Senator is known for championing the rights of school going children to access at least one meal a day by sponsoring the National School Lunch Bill. This, he said, is aimed at targeting millions of children in the poor regions who lack basic amenities.
He also brought to light the plight of former coach Benjamin Ayimba who had been admitted at Nairobi hospital for almost three weeks and had accumulated over Ksh2.5 million. This led to President Uhuru Kenyatta contributing Ksh1 million for the cause. 
He along with other senators pushed for a Parliamentary Audit Office to be established in a bid to curb corruption within national and county governments.
As the chair of the Senate Committee of Labour and Social Welfare, Sakaja, in March 2021, advocated for beneficiaries of the Kenya Railways Retirement Pension Scheme to be compensated for the land on which Nairobi Railways club sits. 
This led to the disbursement of Ksh1.2 billion to the pensioners.