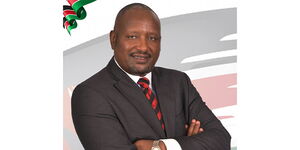 Nicholas Kiptoo Korir Salat is a Kenyan politician who is currently the Secretary-General of the independence party  Kenya African National Union (KANU). 
Salat first started having an interest in politics in 1996 when he became the organizing secretary of KANU. His father Isaac Kipkorir Salat was also an MP. His father held the position for three terms between 1974 to1988. 
Nick Salat He officially joined active politics in 2002 by vying for the Bomet Constituency. He lost the seat to Kipkalya Kones in the 2007 general elections. 
In 2013 and 2017 he unsuccessfully vied for the senatorial position for Bomet County. In August 2020, President Uhuru Kenyatta appointed him as the Chairperson of the Agriculture Development Corporation. 
In 2019, he said that Kanu was on a retreat mission to make a come into the national politics the same way it used to be after independence. He has been very vocal in supporting the Building Bridges Initiative (BBI).
Under his chairmanship at the ADC, Salat has been dealing with issues ensuring land grabbing in the country. More specifically, ADC is often interested in ensuring that government officials do not use public land for personal gain. 
ADC is also tasked with conducting a national survey to gain information that can be used by farmers such as the best animal and plant breeds. 
In January 2021, Salat put land grabbers on notice saying that the corporation had begun an audit of its land ownership and usage. Salat added that the corporation's land was being privatized at a time when the country was struggling to manage its agricultural sector. 
ADC, under his chairmanship, is also focusing on developing food security measures in the country by ensuring that farmers are given enough support from the government.