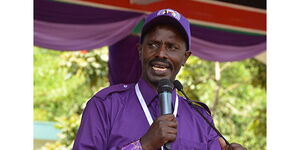 Wilson Sossion is a nominated Member of Parliament who joined the National Assembly through ODM representing workers' interest. He is also the Secretary-General of the Kenya National Teachers Union (KNUT).
Sossion's influence and voice has been prominent in a year that has seen disruption of the school calendar due to the Covid-19 pandemic. His position as the Secretary-General of KNUT has forced the Teachers Service Commission and Ministry of Education to listen to Sossion who represents thousands of teachers across the country.
In May 2020, Sossion was at the forefront of pushing the government to postpone both the primary and secondary national examinations to 2021, which is what eventually happened. He had argued that the lives of teachers and students were more important than the exams.
Sossion led the KNUT leadership in issuing a strike notice in November 2020 warning that teachers would not report to their work stations in January until they were all paid their salaries by TSC. The impasse was however resolved after the government released funds to take care of the needs of schools and teachers.
He again issued a strike notice on January 2021 after the Salaries and Remuneration Commission approved a lower salary increment of between 16% and 32%, a revision that Sossion termed as 'irregular' because it was not a result of a negotiated agreement.
Sossion had demanded an increase of 200% in October on the basis of the adverse effects of the Covid-19 pandemic on teachers who had been out of the classroom from March 2020.
He also argued that the government had failed to implement the 2017 Collective Bargaining Agreement.
Although Sossion still holds significant clout in national affairs, the erosion of the union's power over the last few years has seen the state gain an upper hand against KNUT. The Union has seen under siege losing members from a high of 180,000 to less than 20,000 due to the emergence of rival teachers' unions and falling out of favour with the TSC.