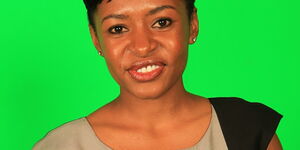 Kiswahili News Anchor/ Reporter with a passion for human interest stories
B.A. Communication, Daystar University 2012
AJEA - Young journalist of the Year (2013)
AJEA – Gender Reporter of the Year (2014)
AJEA – Children and Youth Affairs Reporter of the Year (2014)
Mashirima began reporting and presenting in both English and Kiswahili on radio in 2009 at Shine FM (Daystar University's Radio station). 
She worked as an intern at KBC for 7 weeks between May and June 2011 before moving to Qfm where she worked both as an intern and contracted news reader for 6 months.  She would also do stories for NTV on her off days. 
By the end of 2011, NTV hired Mashirima as an anchor/reporter where she got the opportunity to learn and grow for a year and a month before moving to KTN on Feb 4, 2013 until now. 
It is at KTN that she has had a bigger opportunity to do long-form features, anchor and tell stories in Kiswahili which is her absolute passion.
Telling stories on set or in the field is the most fulfilling job for her. It gives her great pleasure and satisfaction when people get help or others are inspired by her stories or anchoring.  That motivates her to get up and go to work every day; making sure that her audience is not only informed and inspired but also entertained.
Motto: Everyone has a story, you just need to be patient and listen to what makes it different and outstanding!