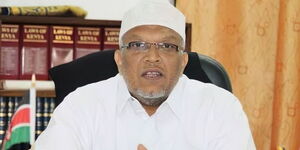 Chief Kadhi Ahmed Muhdhar is a bold defender of the rights of Muslims across the country. 
In 2019, Muhdhar was at the forefront of condemning the Supreme court ruling which had called for the ban of the hijab for Muslim students in non-Muslim schools. He argued that the ruling took away the rights of Muslim young girls as stated in the Constitution. 
During the holy month of Ramadan in 2020, Muhdhar encouraged the faithful to follow government directives and stay at home.
Muhdhar was applauded for guiding the Muslim faithful amid the Ministry of Health protocols to curb the spread of Covid-19. Muslims feared violating the restrictions after breaking fast at sunset and during the 9 pm prayer. 
He called for unity among the Muslims during the holy month in a bid to avoid the spread of the virus as well as honoring their religion. He advocated for them to pray in their households to avoid violating the restrictions imposed by the government.