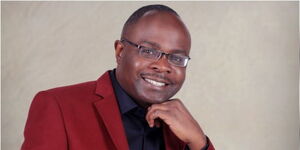 Alex Chamwada is a renowned journalist with experience in international reporting.
Chamwada is the Chief Executive Officer (CEO) and founder of Chams Media, an independent content production company specialising In documentaries and features.
Chams Media produces the Daring Abroad series, which airs on NTV, highlighting the experiences of Kenyans living abroad.
The former KTN reporter also runs Chams Adventures, a tour and travel company.
Before fully venturing into the media business, Chamwada also worked as a media consultant in President Uhuru Kenyatta's communication team in 2017.
In the line of duty, the former Citizen TV reporter bagged several awards, including the Order of Grand Warrior (OGW) presidential award in 2010 by former late President Mwai Kibaki and the best environmental journalist in the Annual Journalism Excellence Awards by the Media Council of Kenya in 2016.
Among the highlights of his career in 2022 include covering Bernice Kariuki, a first-team chef for English Premier League side Arsenal football club.