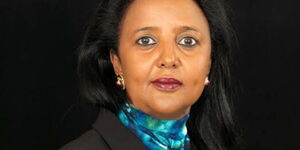 Ambassador Amina Mohamed is a Kenyan lawyer, diplomat and politician. She is presently serving as the Cabinet Secretary for Education and Sports in Kenya. 
She previously served as chairwoman of the International Organization for Migration and the World Trade Organization's General Council, as well as Assistant Secretary-General and Deputy Executive Director of the UNEP.
She served as the Cabinet Secretary for Foreign Affairs of Kenya from May 2013 to February 2018, when President Uhuru Kenyatta,  after re-election, moved her to the Education docket. Ambassador Amina Mohamed, CBS, is  quite uniquely a committed international civil servant who has a distinguished career in positions of leadership in both public and foreign service. She is the first African to be the chair of the global trade round at the 10th World Trade Organization Ministerial Conference held in Nairobi, Kenya one of the most successful conferences so far.
Besides being the first woman to have held the position of Foreign Minister (Cabinet Secretary) of Kenya, she was the first woman to have chaired the governing General Council of the World Trade Organization, the Dispute Settlement Body, the International Organization for Migration as well as President of the United Nations Office for Drugs and Crime.
Amina Mohamed is a former Permanent Secretary of the Ministry of Justice, National Cohesion and Constitutional Affairs and former Ambassador of Kenya to the United Nations at Geneva. Amina Mohamed is a lawyer and diplomat by profession and has served in the public service since 1985. Amina Mohamed has served in the Ministries of Local Government, Foreign Affairs and Justice, Education and currently sports, culture and heritage.
In January 2019, Amina commenced a rigorous process to guarantee 100% transition from primary to secondary education and the roll-out and implementation of the Competence-Based Curriculum (CBC). 
Amina led the quality assurance team at the ministry to monitor the implementation of the CBC and, as promised, completed and submitted the CBC anchoring Sessional Paper to Parliament, which has adopted and given it Sessional Paper Number 1/2019.