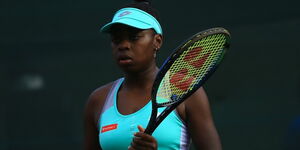 Angella Okutoyi is a Kenyan Tennis player who broke into the limelight in 2022 owing to her outstanding performances in international competitions. 
In July this year, she became the first-ever Kenyan to win a Wimbledon final in a match in which she partnered with Rosie Marie, a Dutch national, to win the doubles Grandslam match. 
Prior to her victory in the finals, Angela Okutoyi had registered a new record as the first-ever Kenyan to play in a Grand Slam final. 
Angella was raised at the Loreto Convent by her grandmother who was working as a cook. Her grandmother assumed the role of raising her after the death of Okutoyi's mother at birth. 
It was during her time at the convent when Okutoyi was introduced to Tennis and showed signs of mastering the game.
Despite hailing from a humble background, Okutoyi is determined to overcome all barriers to rise to the pinnacle of the sport. 
It is her prowess in the sport despite her young age that attracted the attention of her coach who enrolled her at the International Tennis Federation.