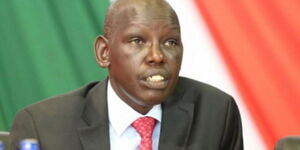 Belio Kipsang is a career civil servant who has authored highly competent academic and research papers in the areas of Higher Education Financing and Planning.
He served in the Ministry of Education as its Principal Secretary for eight years, but was recently reshuffled to the State Department of Regional Development as the PS in charge of Regional and Northern Corridor Development in February 2021.
Previously, he worked as a deputy Chief Executive Officer and the Head of Operations, at Higher Education Loans Board (HELB), a state corporation involved in financing Kenyans pursuing higher education.
His role within the Ministry of Education was very vital as he advocated for the students' interests. As the Education PS, he gave clear direction for parents during turbulent times especially during the Covid-19 pandemic period where the school calendar abruptly changed.
Kipsang holds a Master of Arts and PhD degrees in business/Economics and Administration/Planning respectively.