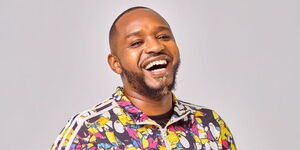 Boniface Mwangi is a human rights activist who founded Power 254 in 2010. A platform that gives artists an opportunity to advocate for social change through their art. 
Mwangi studied journalism at the East African school of journalism and later joined New York University to study Human Rights and Documentary photography. 
Mwangi's photography gained fame after he shared images of the 2007 post-election violence which is documented in his book UnBounded.
The journalist cum activist has received international commendations for his photography and advocacy work in the country.
Among the awards that Mwangi has received include the CNN Africa Photojournalist of the Year Award that he received in 2008 and 2010. 
Other commendations that he has received include the Next Generation Leaders award (2015) and the prestigious Tutu Leadership Fellowship(2020). 
Mwangi was cited as one of the top 100 Most Influential Africans by New African Magazine 2020 and is also the recipient of the 2021 Outstanding youth peaceworker luxembourg peace prize.
The human rights activist also joined active politics in 2017 when he vied for the Starehe parliamentary seat on a Ukweli party ticket, a party that he formed in the run to the elections.