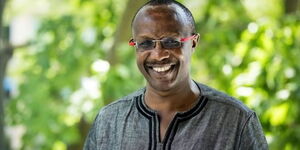 Dr. David Ndii is an acclaimed economist, author and strategist. He has advised multilateral lenders, financial institutions, presidents and political parties in the areas of economic policy and public finance.
The Oxford University PhD holder was a one-time lecturer at the University of Nairobi and later worked as the Chief Economist at Equity Bank and as an economist at the World Bank.
The Rhodes Scholar co-founded the respected Institute of Economic Affairs (Kenya) and advised the Commission of Experts during the constitutional review
He was the founder and Managing Director of Africa Economics and is the chairman of the board of Zimele Asset Managers. Ndii was also an economic advisor to the Government of Rwanda and advised the 2002 NARC coalition on economic recovery.
Ndii, through his newspaper columns and on social media, has questioned and criticized the Jubilee Government's economic policies and projects.
In July 2020, an academic publishing firm, Richtopia, ranked Ndii as one of the most influential economists – 22nd globally and second in Africa after Zambian Dambisa Moyo.