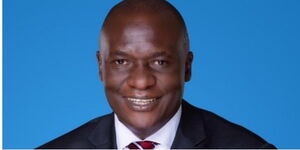 The Director-General in the Ministry of Health came into the limelight following the Covid-19 pandemic.
He quickly became a permanent feature in the war against Covid-19. While the Cabinet Secretary and his Chief Administrative Secretary gave an overview to the media, Amoth demystified the presentations and broke down complex medical reports into language that was easy to understand.
The University of Nairobi alumnus also serves as the Vice President of the Executive Board of the World Health Organization (WHO).
Dr. Amoth is among five others who will be representing Africa for the next two years.
He is a medical doctor with a Master's degree in Medicine (MMed) from the University of Nairobi where he specialised in Obstetrics/Gynaecology. 
Prior to his role in the health docket, he was Chief Medical Specialist (Obstetrics/Gynecology)/ Senior Deputy Director of Medical Services at Mama Lucy Kibaki Hospital Nairobi.