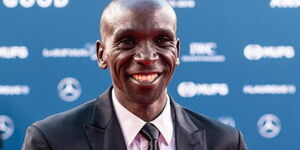 Eliud Kipchoge is a veteran Kenyan long-distance runner. Born on November 5, 1984, the former 5000 meters runner is the world record holder in the marathon with a time of 2:01:39, set on September 16, 2018, at the 2018 Berlin Marathon.
At the age of eighteen, he became the senior 5000m world champion at the 2003 World Championships in Athletics with a championships record.
After becoming a five-time World Championship 5000 m finalist, Kipchoge switched to long-distance running in 2012 and made the second-fastest ever half marathon debut with 59:25 minutes. 
Kipchoge has won 12 of the 13 marathons he has entered. His only loss came when he became runners up to Wilson Kipsang Kiprotich at the 2013 Berlin Marathon, where Kipsang broke the world record,
On October 12, 2019, Kipchoge became the first human being to ever run a 42 km race under 2 hours when he participated in the INEOS 1:59 Challenge in Vienna Austria. 
He clocked a record time 1:59:40. The race was not recognised by IAAF as it was an unofficial race. 
The achievement was recognized by Guinness World Records with the titles 'Fastest marathon distance (male)' and 'First marathon distance run under two hours
Kenyan President Uhuru Kenyatta bestowed him with the Elder of the Golden Heart award during Mashujaa Day celebrations on October 20, 2019, for achieving the historic fete in Austria.
On November 23, 2019, Kipchoge was crowned 2019 World Athletics Male Athlete of the year during the World Athletics Gala in Monaco.