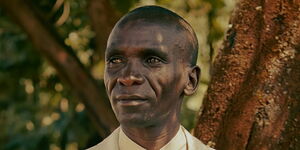 Eliud Kipchoge is the world record holder in the 42 km marathon with a time of 2:01:39, set on September 16, 2018, at the 2018 Berlin Marathon.
At the age of eighteen, he became the senior 5000m world champion at the 2003 World Championships in Athletics with a championships record.
He is also the first human being to ever run a 42 km race under 2 hours when he participated in the INEOS 1:59 Challenge in Vienna Austria in October 2019. 
He clocked a record time 1:59:40. This is, however, an unofficial record. Nonetheless, he entered the Guinness World Records with the titles 'Fastest marathon distance (male)' and 'First marathon distance run under two hours. 
On January 24, 2020, he won the 2019 Sports Personality of the Year award during the annual Safaricom Sports Personality of the Year Awards. 
The Kenya Tourism Board (KTB) also signed him as Magical Kenya destination ambassador on July 3, 2020. He was also appointed to the National Heroes Council of Kenya in November 2020. 
Heroes Council is an entity created through the National Heroes Act 2014 to identify and appreciate heroes in the country.
During the Covid-19 pandemic, Kipchoge supported fellow athletes by providing food and other basic commodities. Kipchoge's hopes of retaining the title in the London Marathon was shuttered after he fell to seventh place.