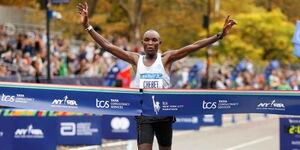 Evans Chebet is a Kenyan long-distance runner who has taken part in various major marathons.
Chebet is both the 2022 Boston and TSC New York Marathon winners.
On April 18, 2022, Chebet won the Boston Marathon in the USA with a time of 2:06:51.
His New York marathon win saw him break down in tears after crossing the finishing line with a time of 2:08:41.
With the wins in Boston and New York, he becomes the first man to win at both marathon events in the same year since 2011.
After the wins, he stated that it was difficult for him to attain such achievements while facing challenges along the way.
Chebet missed the chance to represent Kenya at the 2022 world championship in Eugene, Oregon and credited this to selectors not knowing him well.
The 33-year-old athlete has had previous marathon success having walked away with victories in Buenos Aires in 2019 and Valencia in 2020.