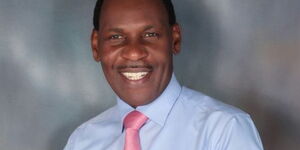 Ezekiel Mutua Mutua has over 25 years' experience in Media and Broadcast Sector, fifteen (15) of which have been at top management level. He is currently the Chief Executive Officer at the Kenya Film Classification Board (KFCB) since October 2015.
He is the current First Vice-chairperson for the African Film Content Standard-Setting Steering Committee.
Previously, Mutua served as Information Secretary (2011 – 2015) at the Ministry of Information, Communication and Technology and Director of Information and Public Communications at the (2007 – 2011) in the same Ministry. He was the secretary-general of the Kenya Union of Journalists (2001-2007) after practicing as a journalist with the Nation Media Group for nine years (1994 – 2002) rising from a Trainee Reporter to an Editor.
In 2010, Mutua was awarded the Moran of the Order of the Burning Spear (MBS) by President Mwai Kibaki for his outstanding contribution to the country. He holds a PhD in Communication Studies from Moi University, Master's Degree in Communication Studies from the University of Nairobi and BA (Sociology and Linguistics) from Kenyatta University.
He also holds an honorary Doctorate Degree in Public Administration from the Commonwealth University. Mutua has served as a Director in various state agencies including Brand Kenya Board, Kenya Broadcasting Corporation (KBC), Media Council of Kenya and the Kenya Copyright Board among others.
Mutua has successfully created a public persona of the country's self-proclaimed moral policeman having banned a number of local songs for containing morally unacceptable lyrics in 2019. 
In 2018, Mutua made international headlines after banning the screening of Wanuri Kahiu's feature film, Rafiki, for failing to "reflect and respect the dominant values of the Kenyan society."