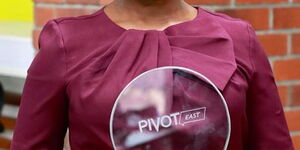 Frida Njogu-Ndongwe is a medical doctor and public health specialist with experience in implementing HIV/TB and maternal, newborn and child health programmes.
She is part of a team that conceptualised, designed and developed the Afyakit and is the current technical lead on the project. The Afyakit is a platform that can house digital supervision tools and provide analytics.
Health managers co-create supervision tools to make them more comprehensive for extracting useful insights from supervision. The new tools are then digitized and placed on an Android platform for efficient use.
The built-in analytics means that, upon supervision, managers receive colour-coded dashboards that highlight problem areas which can then be aggregated at facility and administrative (e.g. sub-national) levels.
These can be used to guide decision making as well as advocacy tools. Health facilities also receive detailed reports so they can act on identified areas for improvement.