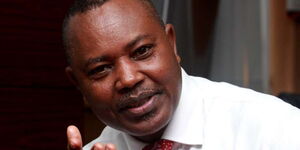 George Maingi Kinoti is the Director of Criminal Investigations (DCI) Kenya. He has vast experience in security matters, having graduated with a Bachelors in Sociology in 1992. He also holds a Master's degree in Security Management from Egerton University.
Kinoti is a former spokesman of the National Police Service (NPS). He previously served as head of security at the Central Bank of Kenya, head of police complaints at police headquarters, personal assistant to the Director of Criminal Investigations and several divisions as a DCIO.
His name was thrust into the limelight when he led a team of elite detectives under the call sign Kanga Squad which ruthlessly dealt with criminals who terrorized Nairobians.
Kinoti is remembered for leading detectives in investigating and assisting in prosecuting three guards implicated in the infamous 2004 attack celebrated author Ngũgĩ wa Thiong'o and his wife Njeri at Norfolk Apartments in Nairobi. 
In March 2020, DCI Kinoti travelled to the United States to attend training at the FBI Academy in Virginia US. The academy is widely recognized as one of the world's premier law enforcement leadership training programs. Kinoti was the only senior officer from Africa selected to attend the training.
In August Kinoti unveiled DCI's Free Quarterly Magazine, which highlights various corruption and criminal cases. The magazine also sheds light on achievements made by the DCI team while giving detectives a forum to openly discuss key issues affecting them, as well as offer solutions. 
Generally, Kinoti's leadership at the DCI has made the agency arguably the most visible among Kenya's law enforcement entities. He worked closely with the Director of Public Prosecutions (DPP) Noordin Haji to carry out investigations and execute arrests of powerful individuals implicated in corruption.