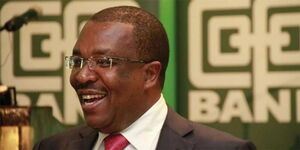 The Co-operative Bank Managing Director joined the bank in 1996 as a Senior Corporate Manager and later became its Director-Corporate and Institutional Banking in 1999.
He was then appointed Managing Director in 2001 with a clear directive to turn around the bank into profitable trading. He managed to turn around the bank's massive loss position of Ksh2.3 billion in 2000, to a profit before tax of Ksh20.71 billion in 2019.
He has over 31 years experience in banking and finance, owing to his university background in mathematics.
Muriuku was decorated in 2005 with the award of Order of the Grand Warrior (OGW).
 In 2011, he was presented with the award of the Moran of the Order of the Burning Spear (MBS).
 In 2017, He was also accorded with the Chief of the Order of the Burning Spear first-class (CBS) in recognition of his successful management of the bank.
The Co-op Bank MD was named the best Chief Executive Officer (CEO) in the banking industry in Africa by the African Banking Awards in October 2021 for leading the bank to great heights, with the bank recording commendable profits in recent years.