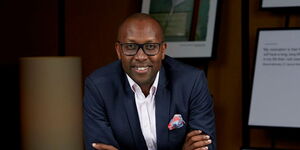 Since 2015, Dr Githinji Gitahi has been at the helm of Amref Health Africa spearheading its operations across several countries within the country. He serves as its Group Chief Executive Officer.
The organisation, which is the largest African-led international organisation, has been at the forefront of championing for health breakthroughs in Kenya - fighting diseases such as Tuberculosis.
The Doctor has a wide-ranging portfolio in the industry having worked in other organisations including his role as the Vice President and Regional Director for Africa, Smile Train International.
He has also worked in Uganda where he served as the Managing Director for Monitor Publication and worked as General Manager for Marketing and Circulation in East Africa for the Nation Media Group.
Through the line of duty, Gitahi was awarded the 'Moran of the Order of the Burning Spear' (MBS) by the then President Uhuru Kenyatta for his tireless contribution to the health sector.
He holds a Bachelor of Medicine, Bachelor of Surgery Degree from the University of Nairobi and attended Harvard University.