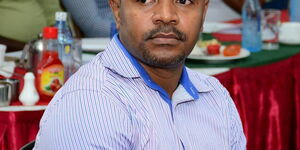 Hussein Khalid is a Human rights activist, lawyer and Executive Director of HAKI Africa.
 He aims to empower individuals and communities to understand and defend their rights.
 Khalid has been at the forefront fighting for the rights of community members at the grassroots level especially around coastal Kenya and generally around the East African region.
The activist has worked with and served as a member of numerous civil rights groups and institutions, including Muslims for Human Rights (MUHURI), Government Taskforce on Grievances of Coast People, the Centre for Law and Research International (CLARION) and the Kenya Human Rights Commission (KHRC).
In addition,  Khalid is a columnist for the start newspaper, and his articles largely focus on human rights and how to address cases of terrorism without infringing on human rights.
He has also been a champion against the abduction cases in Mombasa, where he has collided with police as he represents families whose kin have mysteriously disappeared or have been arrested and cannot be traced.