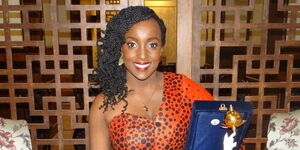 NTV's Idah Waringa is a multimedia sports journalist, events moderator and social media marketer. 
She is an alumnus of the United States International University (USIU) and holds a masters degree in Digital Communication and Media from Aga Khan University. 
Before working for NTV, Waringa was a sports reporter and anchor at Radio Africa Group. 
In 2018, her short documentary 'Acakoro: From Grass to Grace', was the first runner up in Africa, in the best Video Documentary category at the AIPS Sport Media Awards.
The same documentary won the Best Kenyan Story at the 2018 Kenya International Sports Film Festival.
In November 2019, she was chosen by the Egyptian government to receive the Excellence Award for Young African Journalists in Sports.
She also won the 2019 Excellence Award For Young African Journalists in Sports, issued by the Government of Egypt & African Youth Bureau. 
In July 2020, Waringa exposed the rot in Kenyan football, highlighting how matches were fixed. 
The detailed feature exposed several alleged key players in the intricate web that includes football players, referees and 'money men' from as far away as Singapore.
During the Covid-19 pandemic, she joined fellow media celebrities in leading plaudits for health workers who were leading the light against the Covid-19 pandemic.
She has interviewed prominent sporting figures such as FIFA Ballon d'Or winner Ronaldinho, Manchester United treble-winning sportsman Dwight Yorke and Everton player Theo Walcott.
Waringa has hosted headline events on the East African sports calendar. This include; The Manchester United legend Dwight Yorke tour, Magical Kenya Open Golf (presented by ABSA & now part of the prestigious European Tour), CIA Sports Disputes & Arbitration Lecture (Guest of Honour: Court of Arbitration for Sport Secretary General, Matthieu Reeb), Safaricom Sports Personality of The Year Awards (SOYA), and the Athletics Kenya Golden Gala Awards.