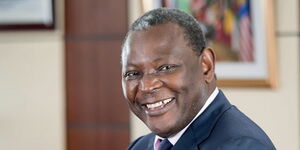 Dr James Mwangi is the Chief Executive Officer (CEO) of Equity Bank.
In June, Mwangi was feted the Top CEO of the Year award at the 2022 Think Business Banking Awards for his sterling leadership of the bank over the years.
The bank was also named the Best Bank in Kenya at the June awards.
Other awards he has won in the years include the 20 most influential people in Africa  (2011), the 2020 Oslo Business for Peace Award and Forbes Africa Person of the Year (2012) among others.
He also has five honorary doctorate degrees that have been conferred to him given the impact he has had on Kenyans' lives through various initiatives of the bank.
Mwangi is a Certified Public Accountant and a holder of a Bachelor of Commerce degree. 
He also serves as a member of the Economic Advisory Board of the International Finance Corporation (IFC), the Global Alliance for Food Security and Nutrition and the Mastercard MEA  Advisory Board among others. 
Other organisations he has served in include the Global Advisory Council for VISA Inc, US President Barack Obama's Initiative for Global Development, the G20 Advisory Board of Agriculture and the Initiative for Global Development.
Among state commendations, he has received the Moran of the Burning Spear (MBS) and the First Class Chief of the Order of the Burning Spear (CBS).