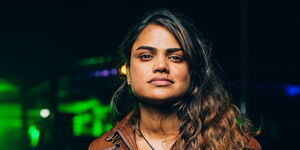 Jessica Fransisca Colaco has been in the information and technology sector for over 15 years. She is a talent strategist, computer scientist and a musician. 
Colaco is an ICT expert and the co-founder of iHub. She was the first woman in music and tech to release a music single (Momentum) on Non-fungible Tokens (NFT) in Kenya.
Jessica, who holds a bachelor's degree in Computer Science from the University of Nairobi (UON), has built a number of communities in the last decade from startups, developers, investors to corporates.
She is currently working on a novel that revolves around her ICT journey. 
Apart from her ICT prowess, Colaco is also a dynamic speaker who gives addresses on issues related to entrepreneurship and technology.
She gave guest lectures at the prestigious Harvard University between 2017 and 2018. Further, Colaco has also spoken at South by Southwest (SXSW) in 2014 and 2015.
In 2016 and 2017, Colaco was among the 100 Most Influential Young Kenyans and 100 Most Influential Young Africans respectively.
Fransisca, who currently sits on a number of boards in Kenya, was also the finalist in the Massachusetts Institute of Technology (MIT) Inclusive Innovation Challenge in 2018.