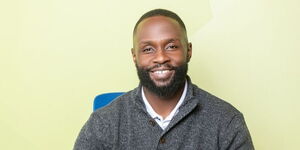 John Allan Namu is the Chief Executive Officer (CEO) and Editorial Director of Africa Uncensored. He is a former features editor, reporter and crime investigator at KTN.
Namu graduated with a Bachelor of Arts, Journalism and Integrated Studies at the United States International University.
Allan Namu is famous for his investigative documentary dubbed Jicho Pevu/Inside Story, in which he partnered with Nyali MP Mohammed Ali.
In 2021, as a member of the International Consortium of Investigative Journalists (ICIJ), he, together with Purity Mukami of Finance Uncovered, were among the two Kenyan Journalists who contributed to the explosive Pandora papers expose.
The Pandora papers is a leak of almost 12 million documents and files exposing the secret wealth and dealings of world politicians and leaders.
In 2022, he partnered with the Afro-pop band, Sauti Sol, to launch a new platform, Shahara.  Shahara is an online-based platform that enables content creators to earn revenue directly from their work through their audience.
The name is derived from the Swahili word, Mshahara, which translates to Salary. Through this, creators can earn the lion's share of the revenue with a 60/30/10 policy. 
This year as well, The International Consortium of Investigative Journalists (ICIJ) was awarded the Malcolm Forbes Award 2021 for publishing the acclaimed report dubbed Pandora Papers.