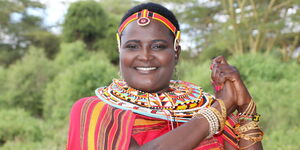 Josephine Ekiru is a Kenyan dedicated to wildlife conservancy whose efforts are being felt the world over.
As the country battles a ravaging drought affecting wildlife, Ekiru has dedicated her time to saving the crucial animals hence saving the country's tourism.
In 2021, the environmentalist, who is also widely known as a peace ambassador received a global award in recognition for her efforts in peacebuilding in Northern Kenya.
United States Institute of Peace (USIP) honoured her the 2021 Women Building Peace Award that comes with Ksh1 million prize.
She was also recognized for her efforts in wildlife conservancy through various campaigns initiated by her group.
To effect the conservancy and peace efforts, Ekiru first hired a staff of 14 people from Turkana and Borana and divided the jobs and benefits from the conservancy 50-50 hence helping end the cyclical warfare between the tribes.
She hails from Turkana County.