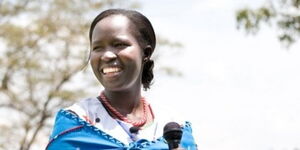 Kakenya Ntaiya is a Kenyan social activist, a feminist and an educator. 
She came to the limelight after establishing the 'Kakenya's Dream', which is a nonprofit organization recognized globally that helps serve the interest of girls. 
The foundation helps in educating girls as well as saving them from harmful cultural practices such as early marriages and Female Genital Mutilation (FGM).
Kakenya drew her inspiration from the life she went through as a young Maasai girl.
She was betrothed at the age of 5 and underwent FGM at a tender age, but she managed to get through her education after her father set her free from the Maasai culture. 
She pursued her studies up until she became a PhD holder from the University of Pittsburgh. 
Kakenya has been recognized across the world for her contribution towards the lives of girls her foundation has impacted. 
She is a Senior Fellow at Brown University's Watson Institute for International and Public Affairs having been appointed for the year 2021/2022. 
She was awarded the Global Leadership Award in 2008 by the Vital Voices and the Feminist Majority Global Women's Rights Award in 2013 by Feminist Majority Foundation. Other accomplishments include featuring in Melinda Gates book, 'The Moment of Lift' and being honored as a CNN Top 10 Hero.